Image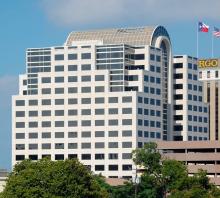 Visiting SOAH
The State Office of Administrative Hearings is headquartered in Austin, Texas, and has seven staffed regional offices located throughout the state. In addition to these locations, the agency holds hearings in remote locations across Texas. Each of the remote hearing locations and each Texas county is geographically assigned to one staffed State Office of Administrative Hearings office location as a primary point of contact.
Visitors to SOAH are not permitted to bring a weapon to SOAH courtrooms or offices. Signs prohibiting the carrying of handguns are publicly posted on SOAH's premises in accordance with Texas Penal Code 30.06, 30.07, and 46.03 and all other unlawful weapons are prohibited. Only visitors or witnesses who are currently serving as a law enforcement officer and certain other personnel are authorized by law to carry a weapon on SOAH premises. Please see SOAH's Weapons Policy for more information.
Attend a Virtual Hearing or Mediation
If you are interesting in attending a virtual hearing or mediation at SOAH, please visit our page on Attending a Zoom Videoconference.
SOAH Office Locations